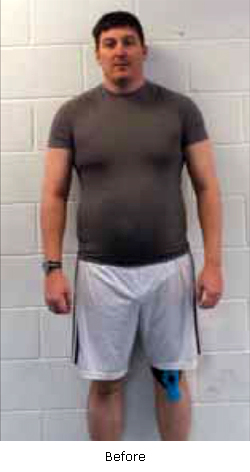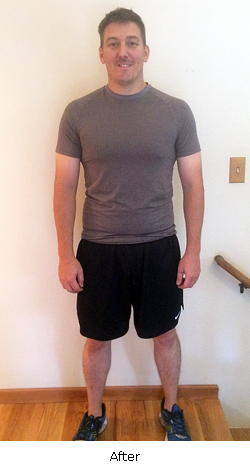 I was not getting the results I wanted at the gym so I came to work with Rich for the push I needed. I realized quickly that he was a lot more than just a trainer. Rich took the time to understand why I wanted to lose the weight and design a plan specifically for me to reach my goals. First he addressed the importance of life outside the gym like diet and overall daily activities. The first few weeks focused heavily on what I ate and what I should eat going forward….not setting up a "diet"… but just watching what kind of food I was putting into my body. As I lost weight and started to feel better I understood how the food I was eating had been negatively affecting me. This really gave me the desire to eat healthier and before I knew it I was not craving the foods I had before meeting with Rich. Rich also identified strengths and weaknesses in muscle groups. The plan he set up not only helped me to lose weight but it also brought significant muscle gain / strength. Working around injuries was also a large part of the plan. We were able to get an intense workout in without furthering any current injury. Overall I feel that Rich is someone who really cares about his clients and not just doing it for a career. I look forward to continuing my training with Rich and achieving the new goals that I have set for myself.
Rich Bar Bell Fitness thanks you for your support.
- Brian Hainley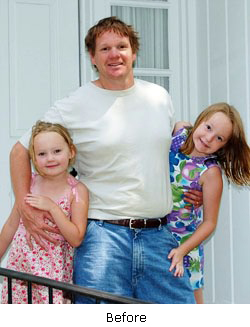 Never underestimate the psychological benefits of physical conditioning.
I learned this lesson after a traumatic shoulder injury and the loss of several family members left me feeling apathetic, lethargic, and depressed. I quit exercising - and within 12 months found myself up 20 pounds. Compare this to a few years ago, when I took a ribbon at the annual Evergreen Town Race and completed Team Evergreen's grueling Triple Bypass ride three years in a row.
After a couple comeback attempts on my own, I was seeing no gains and actually suffered a few injuries. Finally, last March, I began training with Rich Bell at Nick's Pro Fitness. Rich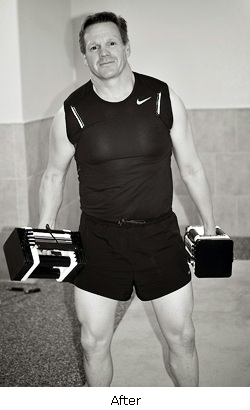 explained the importance of proper nutrition, training, and attitude. Now I'm working on overcoming my carb addiction in favor of a paleo-style diet. I'm becoming consistent with the workouts Rich prepares. And I understand that my mental commitment to change must overcome my resistance to it.
Over the past 10 weeks I've shed 10 pounds and have decreased body fat composition by over 4%. I feel stronger and my clothes fit again. I'm out of the doldrums that many of us slip into when times are tough - and once again, I've signed up for both the Evergreen Town Race and Triple Bypass.
As any project manager can tell you, the final 10% often takes 90% of the effort. l'm certain there will be both progress and challenges ahead, but I know I'm in good hands. There are few who can claim Rich Bell's knowledge and experience in sports science, physiology, nutrition, and training.

- John J. Newkirk
Author, The Old Man and the Harley: A Last Ride Through Our Fathers' America®
President, Cybercision, Inc.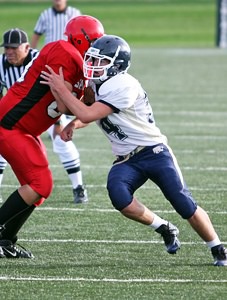 Rich is a very down to earth guy, he is very experienced in the weight room. What ever sport you play he will make a workout plan that will beneflt you the most. Rich gave me a big list of protein shakes to make that would help me put on good healthy weight and the good foods to eat. Rich has helped me gain over 15 pounds .
He is currently getting me ready to play division one football and he makes me better every time I work out with him.
- Keenan Prouty
Sport: Football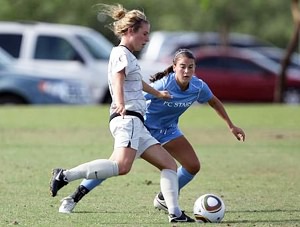 Even though I only trained with Rich for a short time, I still learned and developed so much as an athlete. In just 2 months I could tell a dramatic difference in my strength and power on the field. Not only did I work hard, but I enjoyed myself doing it. My only regret is that I didn't start training with Rich earlier. Thanks for everything Rich!

- Haley Stading
Sport: Soccer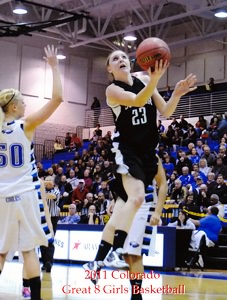 Training with Rich has enabled me to reach a higher level in Basketball and has given me the strength and endurance to push through any situation.
- Alison Garrell, Sport: Basketball
Your training with Alison over the past three years has been an incredible boost to both her physical and mental preparation for the game. I think your methods and approach are truly extraordinary and your understanding of her as a person and athlete has made her association with you extra beneficial. I am very grateful to you for all that you have done for Alison and look forward to future summers of training with you.

Mick Gorrell Conifer Girls Head Basketball Coach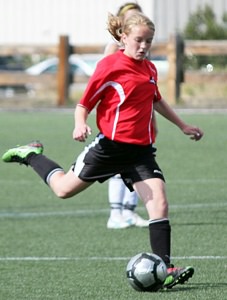 Training with Rich has helped me discover how to train. I have learned to push myself to the limit and realize where I want to be as an athlete. Each session we do a new routine and are always challenged. The workouts are hard but really fun too. I feel stronger in my sports and more comfortable in the gym.
- Maja Sagaser
Sport: Soccer and Basketball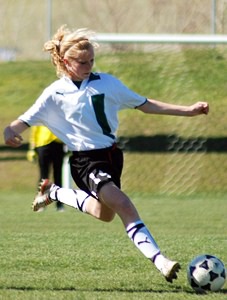 Rich Bell has shown me how to work out like I never knew I could. Every session is filled with intense, new exercises that push your limits, yet still manage to be fun and interesting. After training with Rich, I am noticably faster + stronger, and I can feel the benefits in my sports. Rich has inspired me to be nothing less than my best.
- Samantha Sagaser
Sport: Soccer and Basketball
My time with Rich really advanced my already good knowledge about fitness, nutrition and training. Working with Rich helped to fill in the gaps missing in my training and nutrition. Even after our short summer training period I know that I'm a more advanced and well rounded athlete than my piers. Rich helped me identify my weakest spots and through proven methods, improve those muscles and the others. I know that improving my overall balance helps keep injuries away and shows itself in the many small situations that hockey throws at me. I noticed large improvements in overall body strength once the weak muscles were identified and built up. I gained 7 pounds of lean mass over a 5 month period with proper nutrition and training. I am more than satisfied with the results I attained with Rich's help. And I would highly recommend him to anyone looking to take the next step in their training.
- Wesley Stanton
Sport: Ice Hockey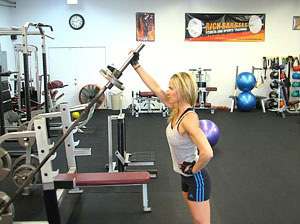 Rich has helped me create and maintain a healthy life style that works for me. The weight training is always new and exciting. We discuss various nutritional, supplemental and hormonal issues that effect me specifically. I have seen unbelievable changes in my body and body composition levels since working with Rich. He is 100% dedicated to his clients goals and I couldn't do it without him.

- Julie Graziano

Sport: Running, Years of Training at Rich Bar Bell Fitness: 4

~~~~~
"Before training with Rich, I was unhappy with my weight and suffered from chronic flu symptoms. I had ineffectively worked with three different personal trainers and unsuccessfully attempted several diet programs. Nothing worked. In addition, I had my tonsils removed with the intention of reducing the regularity of my cold symptoms. Though less severe, the symptoms remained. Then, I met Rich. Weeks into training, he suspected what no one else had: food allergies. As it turns out, I am intolerant to gluten and lactose. The flu symptoms have yet to return. Rich helped me understand the impact food truly has on my body all while pushing me to new physical limits. As a weight-training coach, he is tough and demanding; however, our combined efforts were proven successful each month as my body fat percentage continually decreased. Training with Rich has immensely changed my health and quality of life"
- Maddie
~~~~~
My wife and I decided to train with Rich after we had our first baby boy.
We had both tired of the lack of structured training, and the poor eating habits we had developed during the pregnancy.
My wife had been eating well prior to the preg., and my habits had been poor for many years.
After meeting Rich and setting up our schedule for the months that lay ahead, we were skeptical of the outcomes.
He assessed our needs, and set up our goals independent of each other, explaining that the program is structured differently for each individual. I had never weight trained, having a running and cardio based background, and my wife had some history in the gym.
We were also put on a very structured dietary regiment, being told that it was equally important to the gym training.
After 3 1/2 months, we couldn't have been more impressed with the results! Our eating habits had changed, as well as our strength and conditioning. Rich had not only changed our bodies, but more importantly, he changed our thinking!
We now believe that proper training and eating habits are lifestyle changes, not just exercise and dieting to lose weight. The results are hard to argue with. If you follow the program, you will see the results. We feel great, have more energy, and are actually eating more! Bar Bell Fitness is true personal training with your own gym, nutritional coaching, and motivation all in one. Rich is professional, experienced, and motivating. Take it from two people who were active, athletic, and skeptical and now can't wait to get back to the gym in Evergreen!

- Kerry & Sid Friedman (Floyd Hill)
Call 303.809.6436 for an initial consultation or email Rich at info@richbarbellfitness.com